Understanding SEO fields in OpenCart
8th November 2017
Abigail
OpenCart is a perfect ecommerce platform for any size business and comes with a whole host of features included by default. One of these features is the range of SEO fields available for you to edit and control directly from the admin area without help from a developer. These fields make it easy for you to optimise your website for search engines and improve your click through rates. In this blog post we'll explain where you can find each of these fields and what you should be putting in each. For our examples we've used an OpenCart 3.* website, but where needed we've explained the differences in older versions.
​Where are the fields?
There are four places within an OpenCart admin area where you can add SEO related information: categories, products, information pages and your general store settings. Most fields are located in the general tab, data tab or SEO tab depending on the version of OpenCart you're using. These make up the vast majority of pages which you'll have on your website. For any other pages, for example the contact page or register page, you'll need to get a web developer to add custom fields to your admin area or directly add the meta data straight into your website's code. If you'd like a hand adding the meta data to these pages just get in touch and our team will be happy to help.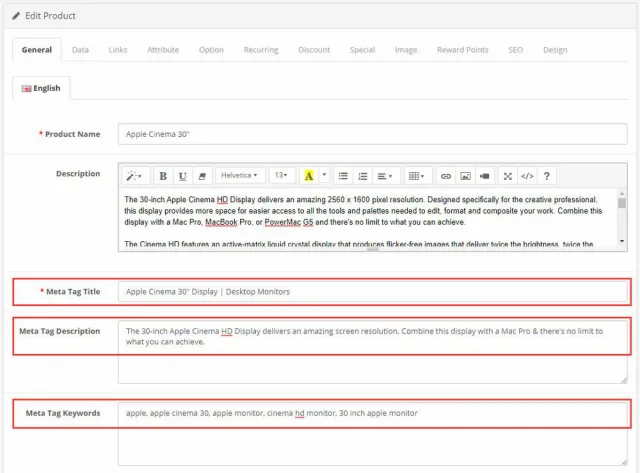 ​Meta Tag Title
Meta tag title: This is the title which will show for that page on search engine results, when the page is shared on social media and on browser tabs. Aim to keep this around 50-60 characters long and include keywords which are relevant to that page. Each title tag should be unique and clear. On older versions of OpenCart, you may not have a meta tag title field - if you don't, your product name field will be treated as the title tag.

​Meta Tag Description
Although this isn't used by Google for search engine rankings, it's still essential that you fill out this field on every page of your website. The meta description is a short description which is shown on search result pages and when your website is shared on social media and certain third-party websites. Your meta description should be enticing and flow well to encourage the user to click through to your website - don't simply list a string of keywords. Each meta description should be unique and no more than around 160 characters.
​Meta Tag Keywords
These are keywords which describe your page. They're no longer used by Google, but they're handy to fill out for when smaller search engines look for them. Avoid keyword stuffing by only using up to ten keyword phrases per page and make sure they're relevant to the topic of the page. Each keyword phrase should be separated by a comma. This shouldn't be confused with the product tags field - product tags are for helping customers navigate around the store.
​SEO URL / SEO Keyword
The wording and position of this field varies between OpenCart versions, but you'll usually find it in the data tab or the new SEO tab in OpenCart 3.*. This field lets you set an SEO friendly URL for that page. Simply enter the final section of the URL, rather than the full URL. You don't need to enter the slash or category before the section of the URL specific to that page. For example, you would enter blue-top for example.com/blue-top or example.com/clothes/blue-top. Make sure SEO URLs are enabled and avoid using spaces, underscores or capital letters.