GDPR Website Compliance Checklist
GDPR and website compliance have been on everyone's lips for the past few years, but what exactly is it, and how does it affect your online store?
Modern advancements in technology, the age of social media and internet appeal have resulted in older legislation becoming out-dated, and fast. The GDPR was introduced to override the previous data protection laws, which makes it much simpler for businesses like yours to follow.
In this post, we'll explore what GDPR is now, what GDPR website compliance might look like for your business, and what happens if you don't comply. Let's go!
What Is GDPR?
GDPR is an abbreviation for General Data Protection Regulation. It was originally a European legislation, introduced to protect individual's personal data and forcing organisations to look introspectively at their processes.
Since the finalisation of Brexit in 2020, the UK has no longer been beholden to EU laws, including GDPR. In order to continue protecting British data, the UK updated the Data Protection Act 2018 (the UK implementation of GDPR) and introduced the UK GDPR, which follows very similar principles to its predecessor, but allows the UK to make changes to the law without EU consent.
Organisations that aren't in the UK don't have to comply with these regulations unless they have customers based in the UK. If they do, they must comply with the UK GDPR.
Exciting, right? So how can you ensure your website complies with UK GDPR?
Your Business's Responsibilities
GDPR carefully considers consumers' right to portability and erasure, and aims to give people power over their own data. In terms of what's changed for a consumer, they must be allowed to request data, update their data and remove it. GDPR is intended to provide all users with data protection and privacy.

Businesses must know what data they're collecting from their customers, how it's being used and where it's stored.
Businesses must comply with all relevant GDPR rules and legislation, according to the seven principles of data use:
-Lawfulness, fairness and transparency
-Purpose limitation
-Data minimisation
-Accuracy
-Storage limitation
-Integrity and confidentiality (security)
-Accountability
Businesses must be able to demonstrate that compliance if necessary.
GDPR Website Compliance Checklist
Hire a data protection officer
A data protection officer's job role is to ensure the business is compliant with the relevant GDPR legislation; they are responsible for overseeing the company's data protection strategies.
Having someone keeping tabs on compliance can reduce stress across the rest of your team and minimise your chances of being caught out by the legislation.
Create a data protection plan
Businesses benefit both from a compliance and an organisation perspective by implementing a defined, labelled and controlled data protection policy.
It means that all the employees are clear on the business's data protection strategy, and it reduces the mistakes made by employees that weren't aware of how to comply with the law properly.
As a business, everyone involved should know the data protection strategies in place at their company.
Quarterly compliance assessments
Some businesses choose to set their employees quarterly compliance assessments to ensure their knowledge of GDPR is up to scratch! Alternatively, you could set them to undertake a free online course for GDPR, which we'll explore later.
Be aware of what data you're using
When you're working with personal data, it's vital that you know exactly what data you're collecting and how it's stored. Additionally, don't collect more data than you need, and be prepared to defend it if necessary – you should be able to explain why you need the data you collect, who has access to it, and how you are ensuring customers have the ability to opt-out of data collection (or have their data removed).
We don't mean the gooey chocolate chip ones, either! Cookies are used on websites so that the organisation can track visitors whilst they are on the site and use that information to aid their online business strategy.
Installing and displaying a cookie policy on your website is probably the easiest way to ensure your website complies with GDPR rules. There are hundreds of free templates out there that allow you to just fill in the relevant information, such as personal details.
Pop-up boxes should appear on websites using cookies, which give you the option to opt out or opt in. If a business doesn't give you this pop-up box, their website is not GDPR-compliant.
You might have seen this on the way in – this is Welford's cookie pop-up!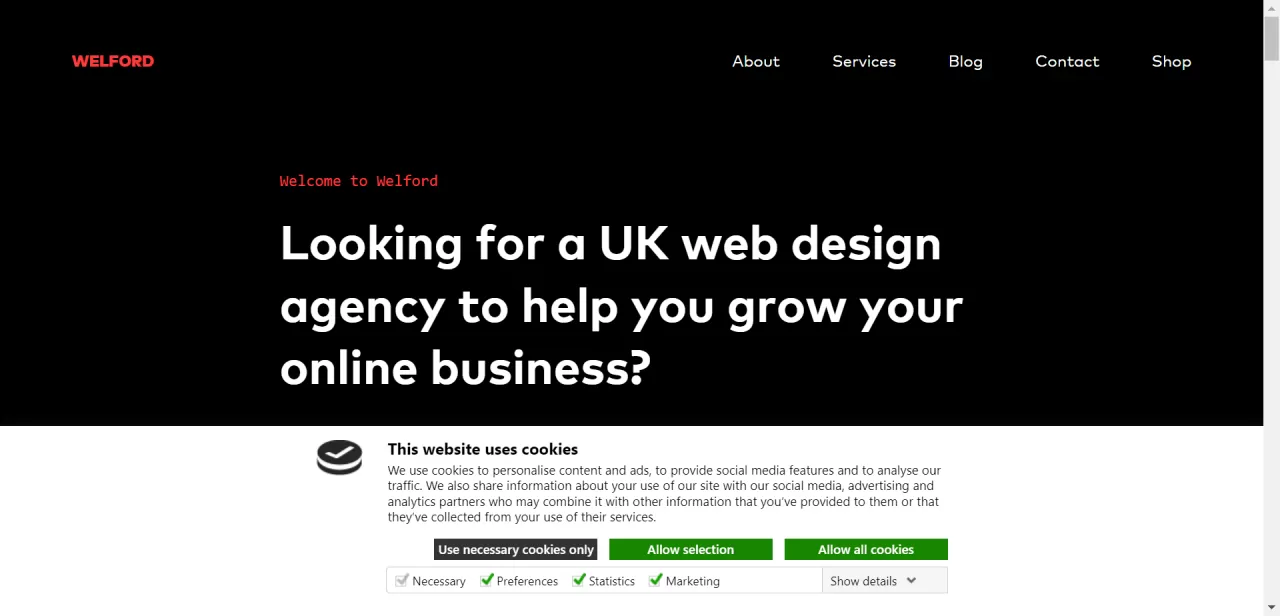 For any actions that require you to gather a visitor's data, such as filling in a form or signing up to marketing emails, you must provide clear information about how that data will be used, and be able to prove that the visitor gave their explicit consent to that use.
An organisation must give the user the ability to opt-out of all marketing emails, as well as the ability to opt in.
Having an SSL certificate installed on your website will not only improve its overall security but is also a step in the right direction to website GDPR compliance, by encrypting data between the customer's (or website user's) computer and the website gathering the data.
Review all third-party services that may have access to your customers' data
If your business uses any third-party services that require customer data, make sure you know what data they use, what they use it for and why they need it. If they aren't GDPR-compliant, then neither are you.
When you're using data for marketing purposes, such as Google Analytics, it's vital that your data is anonymised, meaning you couldn't distinguish one individual from the bulk data. This means data like names, email addresses, IP addresses, phone numbers and financial information must be scrubbed from your data before you can use it in this way.
Create a data breach action plan
Don't wait until you experience a data breach to figure out what to do. Make sure you have an action plan in place to minimise the impact of a potential breach, including a note of who is responsible for what action and how an investigation will run to determine what happened and who was affected.
As well as notifying any affected parties, you will also need to notify certain authorities in the event of a breach – ensure you and your team know who to contact and how to reach them.
What Happens If My Business Doesn't Comply?
2023: TikTok, at €14.4 million
2020: Marriott International, at €20.45 million
2020: British Airways, at €22.05 million
Within the UK GDPR, the Information Commissioner has the ability to enact a higher maximum penalty of £17.5 million or 4% of the total annual worldwide turnover in the preceding financial year – whichever is the higher amount.
Benefits of GDPR Website Compliance
It's not all doom and gloom – ensuring your website complies with GDPR laws does have some perks, too!
The consumer should have no concerns when it comes to trusting businesses online with their data as there are regulations in place. Organisations are now deemed more reliable as they are forced to be transparent with their customers and employees.
Giving your website visitors clear control over their own information, rather than trying to use shady or underhanded techniques, can increase their trust in your business and make them more likely to convert.
With well-established rules on how you should manage and use data, it means it's more secure. The risk of data going missing or being destroyed is decreased as all the employees are conscious of the data protection processes.
If your website is GDPR compliant, then it already needs to have a fundamental level of data security. However, the more security you can offer, the better!
Easier to do business internationally
Businesses in the USA still have to comply to the GDPR rules, which means that consumers in the UK and EU can do business overseas with no issues.
Although GDPR website compliance can feel like a lot of red tape, it's actually amazing for your customers and you as a business owner. It reinforces the fact that privacy is a fundamental human right, and ensures that your business puts the customers' interests first.
At Welford, we design and develop websites with GDPR in mind. If you would like to talk to us about how to upgrade your website's GDPR compliance, please don't hesitate to get in touch today.