How to Create a Downloadable Product in OpenCart 3.x
Many eCommerce stores choose to offer downloadable products, from video and music files to software and instructions. With OpenCart, although there is a wide range of useful extensions available to install, you can offer downloadable products to your customers straight away without needing any customisation or additional features on your store.
We're working in OpenCart 3.x, so if you're on older version of the platform, you may want to think about upgrading your OpenCart.
Uploading a Digital Product to OpenCart
Before you can add a download to a product, you'll first need to upload the files to your OpenCart store. To do this:
Log into your admin area
Navigate to Catalog > Downloads
Click the blue plus (+) button in the top right to add a new download
When adding a download, you'll see three fields, as shown in the screenshot below. The Download Name should be something that both you and your customer will recognise, as it'll be shown in both the admin area and the customer's account.
4. Use the Upload button to upload the desired file for the download
Once you've selected the file, the Filename and Mask fields will automatically populate based on the filename. For security reasons, you should always make sure that the Mask is different to the Filename – otherwise, users could link directly to your download, bypassing the need for payment.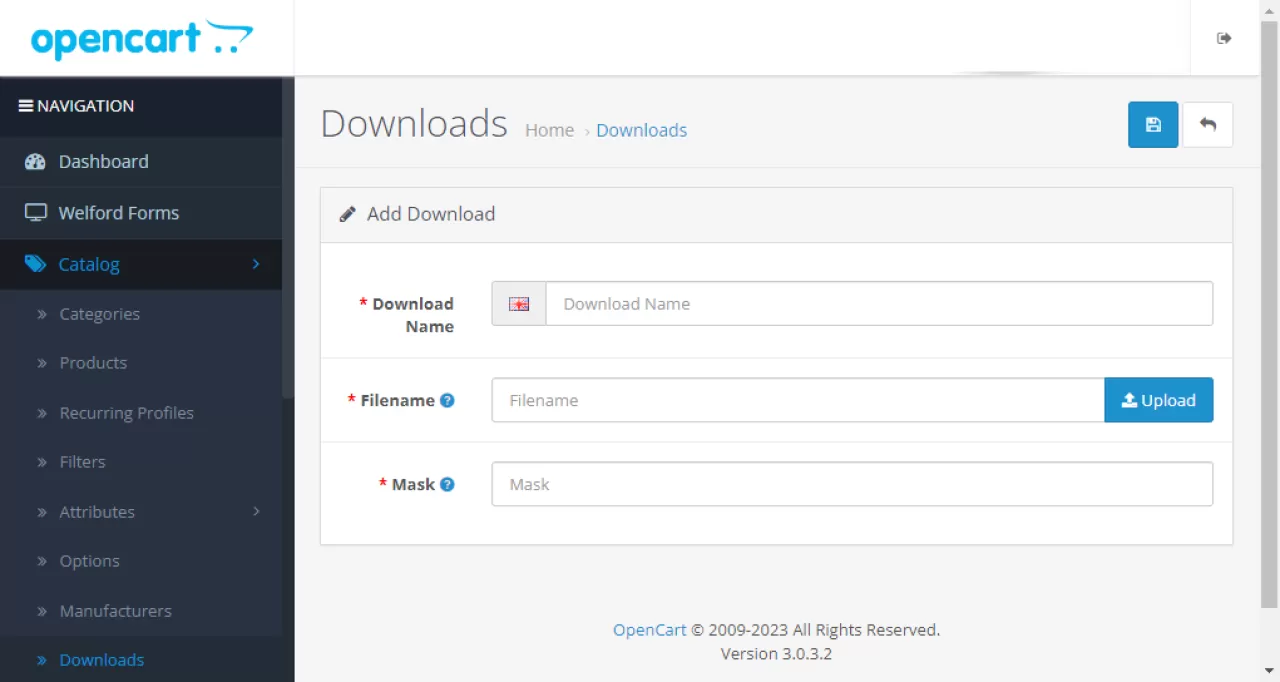 Adding the Download to Your Product
Now that your download has been added to your store, you can add it to your desired product.
Navigate to Catalog > Products.
Select the product you wish to use, then go to the Links tab.
Towards the bottom of this page, there will be a field called Downloads - in this field, type the name of the download you wish to use and select it from the suggestions which will appear.
Once selected, save the product using the save button at the top right of the screen.
If this product is only a download and doesn't include a physical product, remember to change the Requires Shipping option to No.
Your download will now be linked to your product and will appear in the customer's account once they've placed their order, as shown below.
Remember: As the customer has to get their download from their account, guest checkout cannot be used with OpenCart downloadable products.